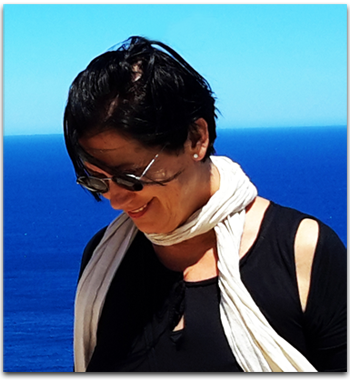 Edi was born in Castiglion Fiorentino, a beautiful medieval Tuscan town. She has always been drawn to the arts, initially drawing and painting, for which she showed a natural flair and sensitivity.
She also felt an instinctive desire to visit distant countries and from an early age, she travelled extensively, experiencing different civilisations, customs, beliefs and artistic traditions.
During her travels she naturally absorbed much of what she was exposed to, not only art, but also colour, nature, light, climate etc, all of which constantly fed her creativity.
Her first artistic efforts were with variety of different materials, using different mediums…paper, board and canvas…watercolours, charcoal and oils…but when her hands first experienced the feel of clay, she knew immediately that it was right for her. It felt so natural to handle clay, and forms freely developed as she progressed.
She began to actively explore ceramics in the early 1990′s, learning from renowned Italian potters a wide range of methods and techniques.
She then went on her own way, taking on a new direction as a ceramic artist, continually experimenting. The clay is turned scraped, kneaded and moulded, pushing to the limit its structural stability, often producing surprising and gratifying results.
Her work is also inspired by nature, she strives to capture elements of it, exaggerating them. The vast expanses of oceans and deserts, which may seem repetitive, in fact offer an amazing level of varied details.
She delicately balances a blend of both traditional and contemporary, giving rise to fresh and energetic forms.
Thus her pieces become a fusion of sculpture and painting, in which form and decoration, technique and creativity mingle and alternate with elegant movement. Each composition in her collection is unique, created personally and entirely handmade.
She often collaborates closely with her clients and architects on private commissions. Edi regularly holds personal or collective exhibitions in Italy and abroad, and has a permanent display in her studio in Castiglion Fiorentino.
Her studio is not only her personal workplace and gallery, but also a space which welcomes all artists and those passionate about art, to meet and exchange ideas, interests and experiences.